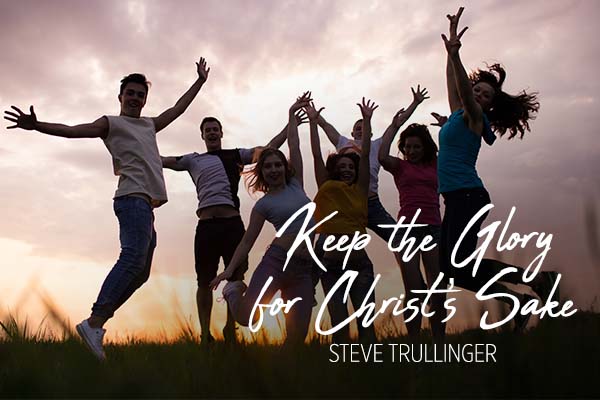 "I give you all the glory, Lord."
or
"To God be all the glory."
If you are like me, you've said these, or similar, "adorations" countless times, without really thinking about what you were saying.  I recently realized I was parroting what I had often heard in prayer meetings, celebration gatherings, testimonials, etc.  I had made the popular dive right into a tradition of man, and I have now had to repent.
The reason?  Because even though the desire to give God all the glory seems like a good thing, believing (and rightly so!) that he deserves it all, actually giving him all the glory flies in the face of a huge desire of Christ himself!  It hurts Jesus, because he gave us glory for a purpose, a supreme goal for all believers that, when realized, will help usher in the glorious union of Christ with his bride (the sons of God).
Let me explain, starting with a very powerful passage of Scripture, an excerpt of Jesus' prayer to the Father for his disciples the night before he was crucified:
"20My prayer is not for them alone [the disciples present with Jesus].  I pray also for those who will believe in me through their message, 21that all of them may be one, Father, just as you are in me and I am in you.  May they also be in us so that the world may believe that you have sent me.  22I have given them the glory that you gave me, that they may be one as we are one – 23I in them and you in me – so that they may be brought to complete unity.  Then the world will know that you sent me and have loved them even as you have loved me."   [John 17:20-23 (NIV)]
This passionate prayer of Jesus, for all his disciples (including those today!), is one of the most explicit declarations of the will of God for complete unity among the members of his family of sons and daughters.
There is much that can be said about perfect unity – what it is and isn't.  But for now, let's focus on verse 22 in the above passage.  Jesus states that he has given us (the disciples) the glory that the Father had given him.  Why?  So that we may be one as he and the Father are one, i.e., that we may be brought to complete unity.  This means that the glory Jesus gave us has agency, or effect, in bringing about complete (perfect!) unity among the disciples.   In other words, it has power to bring about change in us as a body of believers, to reduce division, strife, envy, jealousy, selfish ambition, quarreling, anger, resentment, bitterness, and anything else that causes or accompanies disunity among us.
This statement by Jesus is loaded with potential for us if we choose to embrace it.  By receiving (and keeping!) the glory that does its work in uniting us, we can be the beneficiaries of an amazing miracle of God, namely the transformation into an "organism" (the body of believers) devoted to "others-focus" rather than the all-too-prevalent self-focus that continues to tarnish Christians even now, two thousand years after Christ prayed for our perfect unity.
I plan to eventually write a detailed encouragement regarding the transition of the sons of God to a state of perfect unity, but a brief introduction to the basic principles and ideas can be found in a message I delivered1 several years ago entitled, "The Love Transition!"
Now, here is the rub, so to speak:   if we declare that we are giving all glory to God, then we are, in effect, refusing to allow the glory he gave us to do its work of unification!  This glory is a precious gift from Jesus to us, and to give it back before it has finished its work is surely a disappointment to our Savior and Lord, and that would be expressing the effect of the misguided gift-return rather lightly.
Indeed, we need to stop parroting "give-it-back" phrases that emanate from traditions of men and instead learn to appreciate the heart-motive of Jesus (and Abba2) to see us all blessed (beyond our ability to comprehend) by the unity that was intended2 from the beginning for the family of Adam.  Please, I beg you,
Keep the glory, for Christ's sake!
1Delivered in 2009 at HRock Church in Pasadena, CA, and currently downloadable from the following link:   CLICK HERE
2More insights into how and what Abba thinks (and feels!) about you can be found in Steve's book (in both paperback [USA orders only] and audio-download formats) entitled, "Windows to the Father's Heart," available at www.fatherstouch.org/store  and in limited supply at www.amazon.com for international orders.